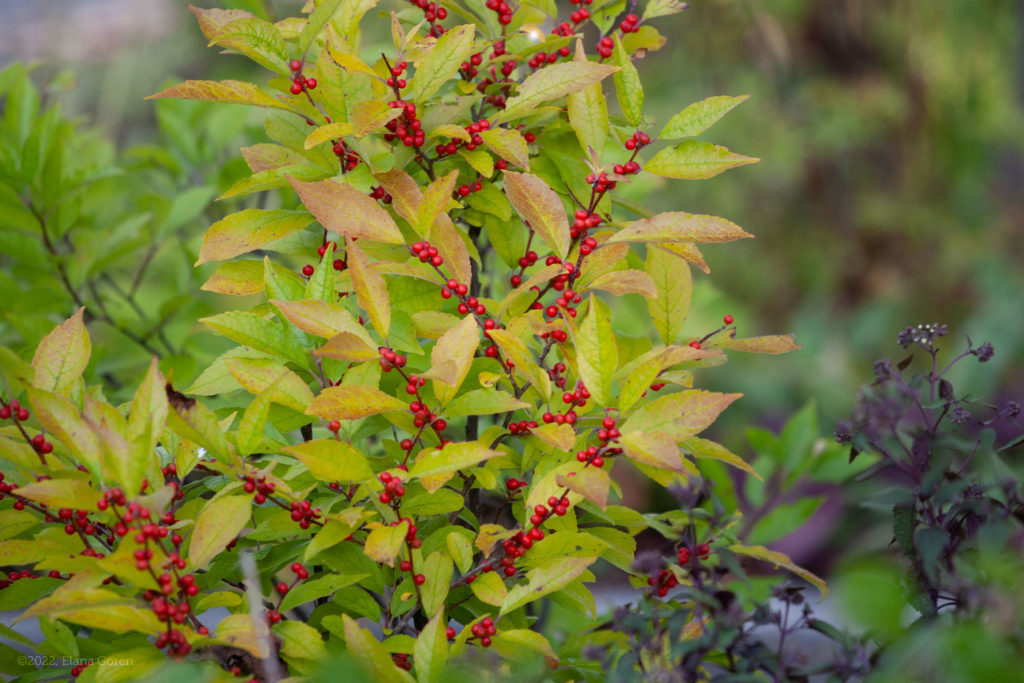 Winterberry
Ilex verticillata
As the season gets colder, insects become far less abundant and there is less and less for birds to eat. But there is a great way to feed them during the winter and it doesn't require a birdfeeder. There are many native shrubs that provide berries for the birds and other wildlife to eat and you'll be doing them a favor if you add these shrubs to your garden. One shrub that the birds can benefit from and we can enjoy seeing is our native Winterberry (Ilex verticillata). Birds will be drawn to the bright berries which will help them to sustain themselves in the colder months. And the sight of a spectacular winter display is uplifting as colorful bunches of berries remain even as the branches become bare. Depending on the cultivar, the berries can be bright red, yellow or orange. The varieties that boast yellow or orange berries can look stunning against a dark backdrop of evergreens or a dark-painted structure. However, the red berry cultivars are probably the most widely available and are also quite beautiful as you can see in the photos here from my own garden.
Winterberry is in the holly family, yet it is deciduous and not evergreen like its native cousins, American Holly (Ilex opaca) and Inkberry (Ilex glabra). So, in the fall, its leaves change from green to chartreuse to a brilliant yellow providing beautiful fall colors, especially with the contrasting berries on its branches. The berries form in clusters along the branch stems and remain after the leaves have fallen in late autumn. Berries are formed only on the female plants and require pollination from a compatible male plant for berry production. A male Winterberry can pollinate 6 to 10 female Winterberry plants as long as both male and female bloom at the same time so that pollinators can visit both in the same time span. The variety in the photo above is 'Winter Red' which is a female plant and it is pollinated by 'Southern Gentleman' which, as the name implies, is a male plant. You can ask your nursery person for compatible cultivars of male and female plants.
Winterberry is a great asset to the native garden providing food and shelter for pollinators, birds and other wildlife while providing spectacular fall and winter interest for people to enjoy.
LIGHT full sun to part shade
WATER medium to wet conditions
SOIL adaptable, clay, loam
SOIL PH prefers it more acidic
HARDINESS zones 3 – 9
HEIGHT 6 – 15 ft
SPACING 6 – 12 ft
BLOOM TIMES June –July
BLOOM COLOR white
BERRIES SHOW fall – winter
BERRY COLOR red, orange or yellow depending on the variety
BENEFITS Supports pollinators. Host plant for butterflies. Provides food in winter for birds. Beautiful fall and winter displays of bright-colored berries. Shelter for wildlife.
GARDEN USE Borders, foundations, hedges. Pollinator garden, winter garden, rain garden.