White Heath Aster
Aster ericoides (aka Symphyotrichum ericoides)
'Snow Flurry'
Snow flurries in September! Or more like flurries of flowers when so many other perennials have started to go dormant. Asters are autumn-flowering perennials and they come in all sizes right down to this adorable, creeping 'Snow Flurry' variety of White Heath Aster. The straight species of this native Aster grows between 1 and 3 feet but this ground-hugging variety acts as a spreading mat and mine have barely reached 6 inches.
This wonderful plant received the Award of Garden Merit from the Royal Horticultural Society and with good reason. During the growing season, it quickly forms a thick, green mat that keeps the ground protected from the hot rays of the sun and grows just fine in tough, exposed sites. In my garden, this Aster's carpet of fine foliage offsets the leaves of the taller shrubs and perennials above it, as is illustrated in the photo above. Just keep in mind that it needs full-sun, so it should be planted on the south-side of any larger plant(s) it is next to.
This is the first year that I've grown Aster ericoides 'Snow Flurry' and I've been pleasantly surprised by its vigor. I planted landscape plugs last fall and hoped they'd live up to expectations and wow, they really did. Even though I sort of neglected them during the drought this summer, they grew well and this September I have been treated to thick mats of tiny, white flowers. I feel lucky about that and I smile every time I walk past them.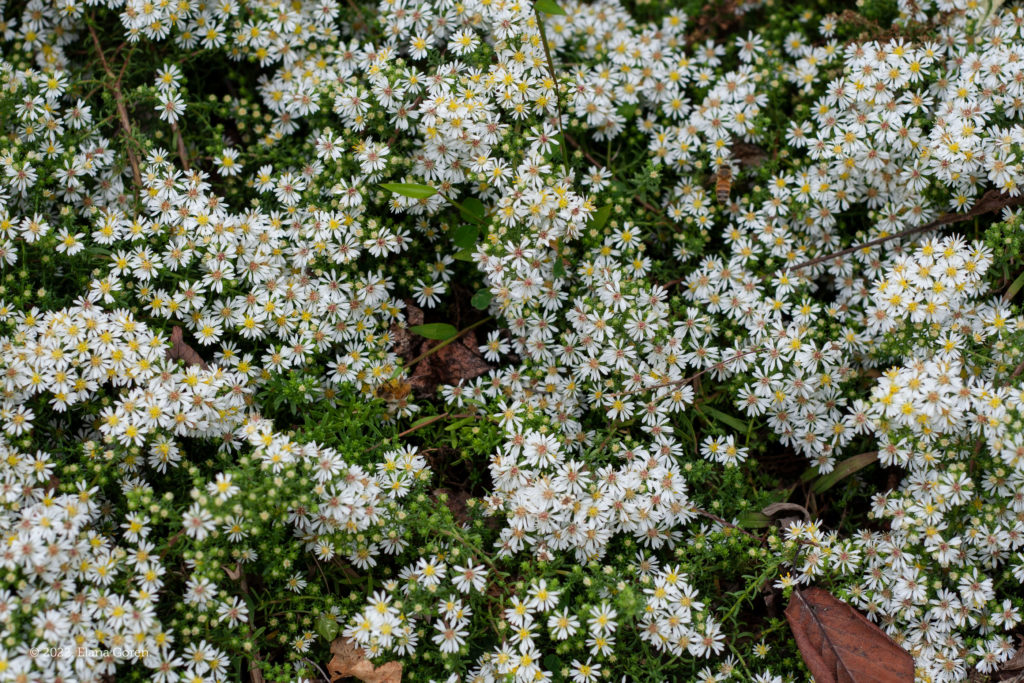 LIGHT Full sun
WATER Average to dry conditions
SOIL Adaptable, sand, clay, loam
SOIL PH Adaptable
HARDINESS Zones 3 – 9
HEIGHT 4 – 8 inches
SPACING 12 – 24 inches
BLOOM TIMES September – October
BLOOM COLOR White
BENEFITS Spreading, drought-tolerant groundcover, attracts bees and butterflies. Great for rock gardens, path borders, exposed sites.